AUTOMATIC MARKETING MACHINE®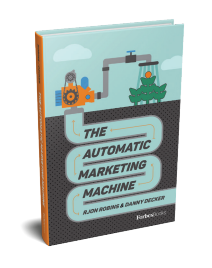 Take your credibility to the next level
and reach a brand-new audience.
Become an AMM Certified Marketing Agency!
If you run a marketing agency… and you're GOOD at what you do… and you communicate professionally with your customers…and you're looking for massive growth opportunities… then you should consider becoming an AMM Certified Marketing Agency.
The Automatic Marketing Machine brand was created by RJon Robins and Danny Decker with the mission of teaching small business owners how to think about their marketing, how to plan their marketing strategy, and how to build their marketing team. Through our book, conferences, workshops, and various media channels we've already reached tens of thousands of business owners and are actively building a robust community.
Watch this video to get a taste of what our community is all about!
What we do NOT provide is the actual execution of marketing services. And since we launched this brand in 2021, our community has been BEGGING us to recommend marketing agencies that they can hire to execute these strategies. Rather than continuing to make ad hoc referrals, we developed our certification program to connect small business owners with marketing agencies that we trust to deliver results.
To become a Certified Vendor, your agency must demonstrate proficiency in at least one of three categories. When your application is approved, you will "earn" the corresponding badge that you can display on your website and social media channels. The badges currently available are: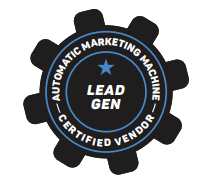 Agencies that qualify for this badge will be able to demonstrate proficiency in lead generation through channels like Google Ads, SEO, Paid Social, etc. Offline channels like Direct Mail are included as well.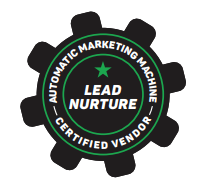 Agencies that qualify for this badge must demonstrate proficiency at nurturing and converting leads into paying clients – through email marketing, drip campaigns, direct mail campaigns, etc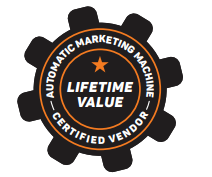 Agencies that qualify for this badge must demonstrate proficiency in improving customer lifetime value through driving referrals, retention, and/or by justifying higher price points.
Exclusive Certified Vendor Badge for Your Website & Marketing Materials
Inclusion in our Certified Vendor Directory – This is frequently promoted via QR codes in our book, and continually promoted via our marketing channels, digitally and offline.
Admittance to our Private Facebook Group only for Small Business Owners + Approved Vendors
Two free tickets to attend our hands-on "How to Sell Marketing Services to Small Businesses" Workshop
One "Badge" Included (separate fee for Additional Badges)
All the benefits of the Certified Vendor Program, Plus:
Two Guest Appearances on the Automatic Marketing Machine Podcast per calendar year.
RJon Robins & Danny Decker Will Each Appear on Your Podcast Once per Calendar Year – And We'll Go Out Of Our Way to Make You Look Like a Rockstar!
Publish Two Articles in our Newsletter per Calendar Year.
Featured Guest on Automatic Marketing Machine Webinar
Once per Calendar Year.
Send Two Sponsored Emails to Our Email List per calendar year.
Opportunity to Participate in Special Events and Workshops –Separate Fee May apply.
Two free tickets to attend our hands-on "How to Sell Marketing Services to Small Businesses" Workshop & Bonus VIP Session
Up to Three Badges Included